Golden Star Wassa Limited Donates USD70,000 Worth of Medical Equipment To Ten (10) Health Facilities Within Its Hosts Communities.
2023-June-05
Golden Star Wassa Limited (GSWL), on Thursday 17th May 2023 donated USD 70,000 worth of medical equipment to ten (10) health facilities in its host communities.
The beneficiary centres of; Akyempim Community Clinic, Nsadweso CHIPS compound, New Subri CHIPS, Ateiku Health Centre, Benso Health Centre, Mpohor health Centre, Senchem CHIPS, Brofoyedru CHIPS, Anyinabriem CHIPS, Daboase Health Centre and Daboase Ahmadiya Hospital will have their health centres stocked with incubators, protective equipment, basic diagnostic equipment, and non-medical consumables. 
The donation forms part of Golden Star's pandemic preparedness programme in partnership with GIZ and the District Health Directorates of Wassa East, Mpohor and Tarkwa (Benso).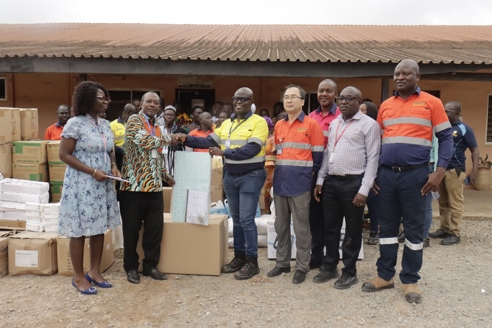 The donated medical consumables will support quality and effective healthcare services to Golden Star's host communities.
In a speech read on his behalf by Mr. Kwabena Owusu Akyaw, MD of GSWL Mr. Shaddrack Sowah explained that "Responsible mining is based on shared value, where host communities are empowered economically and socially because of mining activity in their community. It is a position that GSWL takes seriously as captured in our mission to benefit more people with our own development".
The Brofoyedru Queen mother who represented the divisional queen mother of Wassa Fiase Nana Abena Kunadjoa II on behalf of the traditional council and communities and was full of praise for GSWL for going over and beyond to provide impactful programmes and donations for the benefit of its host communities.
The 3-year pandemic preparedness programme with funding to the tune 4,320,916.00€ is committed to develop, maintain, and improve robust data collection in GSWL host communities. This will aid effective decision making in times of crises or pandemics like the COVID 19 pandemic. The programme will also develop a road map for increased access to health, safety, financial wellbeing and enhanced social protection for GSWL host communities. To that end GSWL has supported various activities and programmes, including distribution of sanitary towels to secondary school students in host communities. In addition, it has registered over 7,000 host community members unto the National Health Insurance Scheme (NHIS).
The choice of GIZ and the District health directorates as partners is to ensure sustainability of the programme beyond the life of the mine.